GRNET and the European Digital Innovation Hub for Digital Governance GR digiGOV-innoHUB are organizing on May 12, 2023 a conference on "Synergies for the future – AI in Public Services".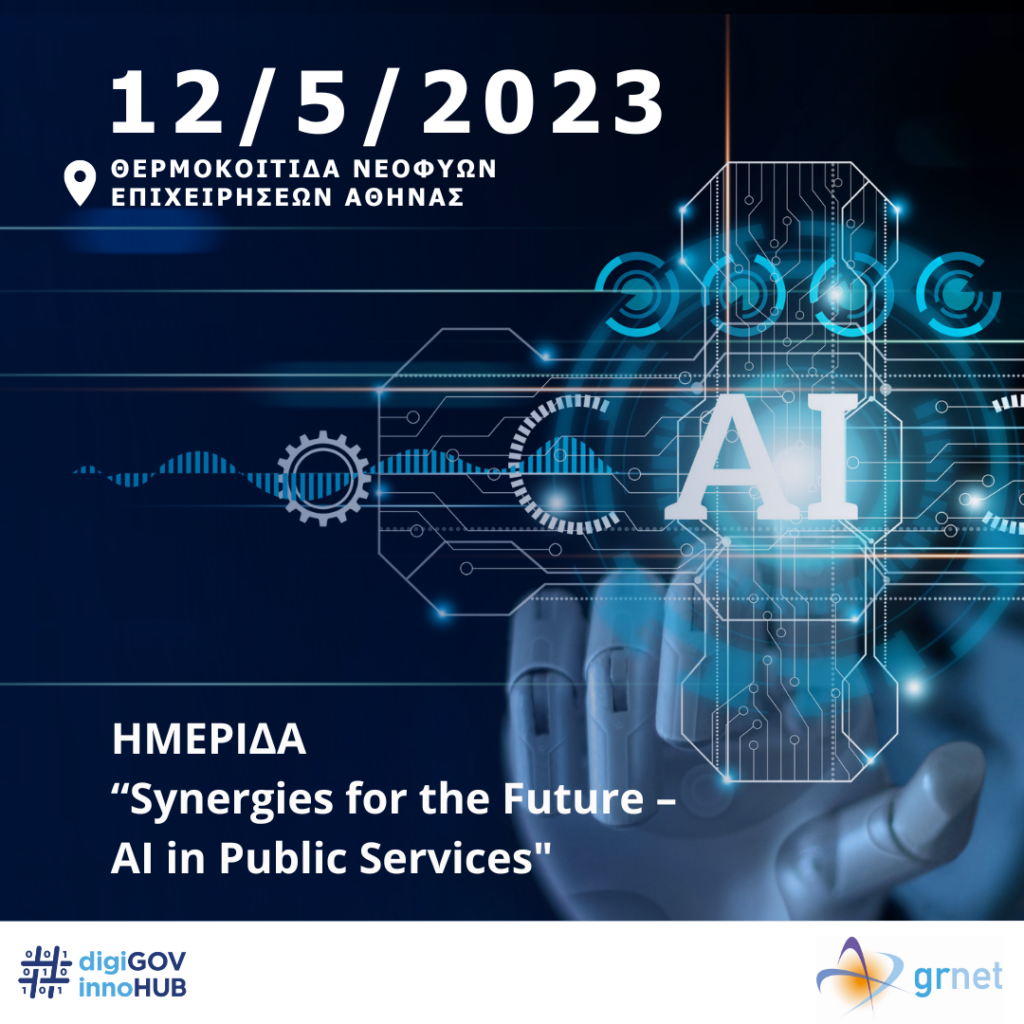 The conference is is addressed to:
members of the Greek Artificial Intelligence (AI) community
Public Administration executives interested in the design and creation of services, for citizens and businesses with Artificial Intelligence (AI) technologies
The objectives of the event are:
presenting the initiatives & priorities of GR digiGOV-innoHUB in accordance with the EU priorities for the use of Artificial Intelligence in Public Services
information on current initiatives and actions in the field of Artificial Intelligence
presenting use cases by Public Administration officials and the highlighting of good practices
presenting solutions and case studies from industry
brainstorming, to raise awareness, mobilize and grow the AI ​​community of practice & innovation ecosystem
Co-creation workshops will follow in order to address four challenges of the Public Sector with AI technologies. The results will be published on the page of the hub.
The conference will take place at Th.E.A. (the Athens Startup Business Incubator) , supporter of GR digiGOV-innoHUB
Register here to watch the conference online
Agenda
Πρόγραμμα της εκδήλωσης
Time
Activity
Speaker
09:00
-Registration-


Opening
09:30
Welcome
Sophia Efraimoglou, President, Athens Chamber of Commerce and Industry
09:35
Opening remarks
Leonidas Christopoulos, Gen Secretary of Dig Governance and Simplification of Procedures at Ministry of Digital Governance
09:45
Key-note speech
Prof. Stefanos Kollias, Chairman, GRNET (Presentation)
10:00
Elevate Greece
Michalis Dritsas, CEO, Elevate Greece (Presentaion)
10:10
New Challenges to Innovators
Manos Macromallis, Chairman SEKEE
10:15
GR digiGOV-innoHUB
Yiannis Kotsis Giannarakis, Coordinator, GR digiGOV-innoHUB /GRNET (Presentation)
10:25
AI challenges for the Public Sector
Nina Gialloussi, Data Product Developer GFOSS (Παρουσίαση)
10:35
AI for GOV – the Greek Case (Emerging Technologies in the Public Sector)
Antonis Stasis, Director, Ministry of Digital Government (Presentation)
10:50
Introduction to EU initiatives for AI
Jola Dervishaj, AI Policy & Outreach Officer, (Παρουσίαση)
11:05
European AI on Demand Platform and the testing and experimentation facilities
Evangelia Markidou, Head of Sector – Artificial Intelligence Technology, Development and Impact , DG CNCT, EU Commission (Presentation)
11:20
AI and the EDIH network
Helena Rodriguez, PO, DG CNECT (Presentation)
11:30 13:00
AI for Public Services: Synergies for the future
Fireside chat


Stefanos Kollias, Chairman GRNET, Professor NTUA Timos Sellis, Director Archimedes RC Dimitris Plexousakis, Coordinator Smart Health/ITE Vangelis Karkaletsis, Coordinator Smart Attica/NCSR Demokritos/Inst ICT Cleo Sgouropoulou, Head AI Hub, UniWA Vasilis Katsouros, Director ILSP/ATHENA Moderator: Yannis Rizopoulos, journalist


13:00
-Close of the 1st session: lunch-coffee